Uppsala Science Park – realising tomorrow's innovations
Uppsala Science Park in numbers
Square metres office and business space
A unique community of visionaries and experts.
4 reasons to choose Uppsala Science Park
Close to know-how
At Uppsala Science Park, you are strategically located along the so-called Knowledge Route – the route linking all important, knowledge-intensive actors that follows the road Dag Hammarskölds Väg from the centre of Uppsala and southwards. In other words, a stone's throw from Uppsala University Hospital, Geological Survey of Sweden (SGU), Uppsala Biomedical Centre (BMC), Ångström Laboratory, Ulleråker, Rosendal, National Veterinary Institute (SVA) and Ultuna with the Swedish University of Agricultural Sciences.
Exciting neighbours
At Uppsala Science Park you will find some 140 companies within a wide range of industries, but all clearly connected to innovation and life science. And with the globally top-ranked incubator Uppsala Innovation Centre, a strong entrepreneurial spirit characterises the area. A unique innovative context is created here with everything from smaller start-ups to large players such as the Swedish Medical Products Agency and the Swedish Food Agency.
Green areas for recreation or exercise
On your doorstep, you will find fantastic green areas for a lunchtime walk or run, enabling you to easily fit exercise into your working day. Or why not have a green walk-and-talk meeting? You also have access both to certified physiotherapists and to Friskis&Svetti's state-of-the-art gym facility, at Stallet, with its charming atmosphere.
Find your perfect office
We are actively developing Uppsala Science Park to ensure it provides companies in growth and innovative stages with the best support. We offer everything from office space in an office hotel to your own private office with a lab and workplaces for around one hundred employees. With us, your company has the opportunity to grow and develop in a unique innovative environment. We tailor your office premises in sizes from 12 square metres up to entire buildings of 12,000 square metres.
Meet a couple of our tenants at Uppsala Science Park
Diagnostics that save lives
Gradientech, Hubben
"In general, I think most people think that it is an exciting area to be part of, considering all the other organisations, and that you get a rewarding exchange here at Uppsala Science Park. Uppsala isn't that large, many people have common backgrounds from their studies and suchlike, so we always run into many people we know even though we work at different companies. It is easy to interact with other companies here."
Sara Thorslund, CEO, Gradientech, a Swedish research company, active in biotechnology and diagnostics.
Promotes new ideas and initiatives
STUNS, Hubben
"The area's geographical location suits us perfectly, and we also have very nice premises. Many of our collaboration partners are located along Dag Hammarskjölds Väg – the so-called Knowledge Route – or naturally pass by. So for us it's both the proximity to idea carriers but also to a green outdoor environment with that mixes new and old. Here traditions and innovation meet, a clash that breeds innovation."
Andreas Larsson, CEO, STUNS, a foundation for collaboration between the universities in Uppsala, business and society.
To us, the location means both the proximity to collaboration partners but also to a green outdoor environment that mixes new and old. Here traditions and innovation meet, a clash that breeds innovation.

Andreas Larsson, CEO, STUNS
A place for innovation, development and growth
Uppsala Science Park is about more than just business development – ​​it is a living, vibrant hub for collaboration and sharing know-how. People from different backgrounds and disciplines meet here to share ideas and to create tomorrow's innovations. The park fosters a creative and stimulating environment to help shape tomorrow's technology and solutions that will make a real difference in the world. Choose the property that suits your business and see available premises below.
Hubben
The Hub is our largest property in the area at 12,500 square metres and offers a creative location for meetings and conferences. The largest room in the conference section accommodates up to 130 people and all rooms are equipped with modern meeting technology. There is also a large restaurant frequented by many people for lunch. Located in the middle of Uppsala Science Park it comprises a natural meeting place and is literally a hub for innovative ideas. Not least due to the beautiful ground floor atrium with fantastic acoustics, which has been the venue of numerous concerts.
Celsius
The area's latest addition is Celsius, which welcomed the Swedish Food Agency as a tenant in 2020. Celsius was built with a strong identity as a landmark for the entire Uppsala Science Park. It is a property at the absolute forefront of technology with functional and flexible laboratories, and offices that will also promote innovation and collaboration. It has the highest environmental label LEED Platinum and was awarded "LEED building/project of the year" at the 2022 Sweden Green Building Awards.
Majoren
This beautiful property was constructed between 1901 and 1908 as the barracks for the Uppland Artillery Regiment (A5), and until the 1980s the premises were used for educational purposes. Today, Majoren is one of Uppsala Science Park's office hotels where several companies with varying operations and sizes coexist within premises distributed over three floors. The office rooms are available in several sizes of 14–40 square metres.
Generalen
Generalen, like Majoren, is a former barracks property and in this beautiful turn-of-the-century building you will find an office hotel with offices of 10–62 square metres. Several small business owners mainly within the life science, biotechnology, medicine and IT fields coexist and thrive at Generalen. The building also houses a school, Uppsala Enskilda Skola, for students in pre-school up to year five.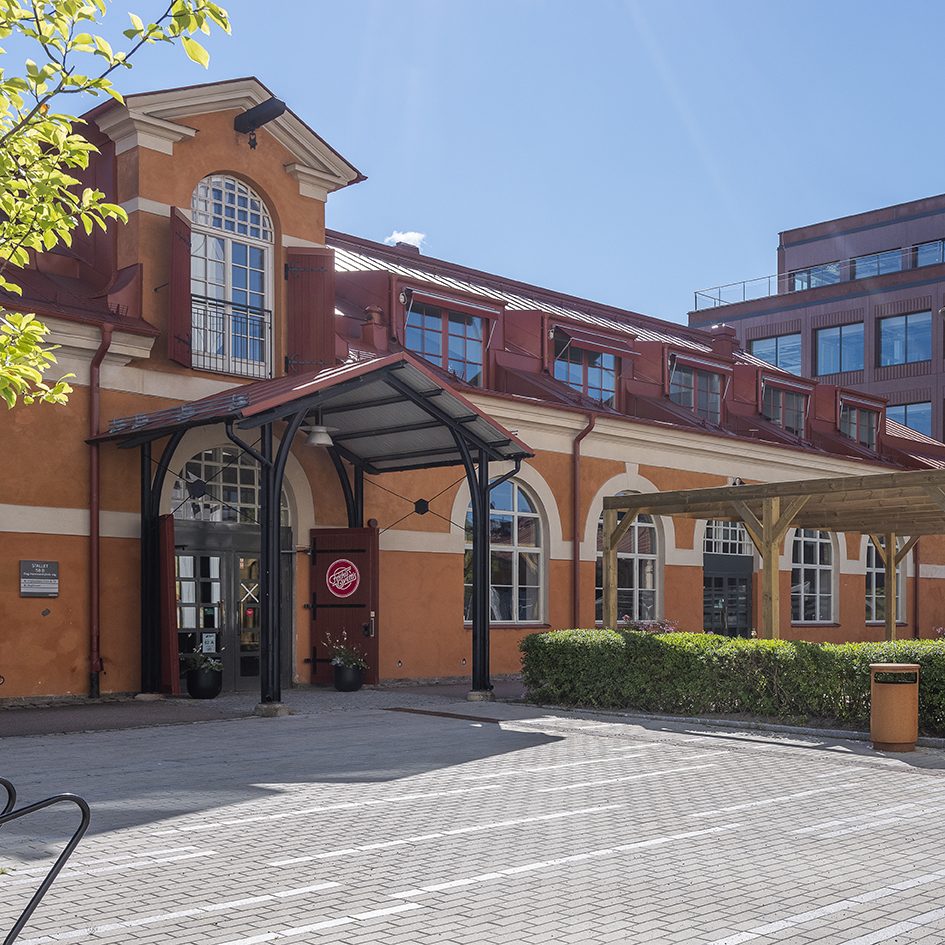 Stallet
This characteristic building from the beginning of the last century houses the area's large training facility, Friskis&Svettis, which generates a high footfall of visitors to the building during the day. The building also accommodates a large number of life science and IT companies in unique, tailored and modern office premises.
Oscar II
Oscar II är en av de största fastigheterna från det gamla regementet som började byggas 1901. Här finns vackra kalkstenstrappor och höga fönster som skapar en mycket charmig miljö. I huset sitter idag en bred mix av bolag inom bland annat IT och sjukvård i de vackra och unika kontorslokalerna om totalt cirka 5 900 kvm.