OUR AMBITION IS TO BE SWEDEN'S LEADING PROPERTY COMPANY
Vasakronan is Sweden's largest property company with a portfolio comprising 174 properties with a total area of 2.3 million square metres.
We own, manage and develop centrally located office and retail properties in Stockholm, Gothenburg, Malmö and Uppsala. The majority of the portfolio is located in Stockholm.
The market value of our property portfolio totals around SEK 156 billion.
The number of employees is approximately 310.
WE WILL ACHIEVE THIS BY:
Generating a high total yield, that should also exceed that of the industry in general.
Being the preferred choice for tenants looking for office or retail premises.
Being perceived as the most attractive employer in the industry.
Assuming social responsibility and striving for long-term sustainable development.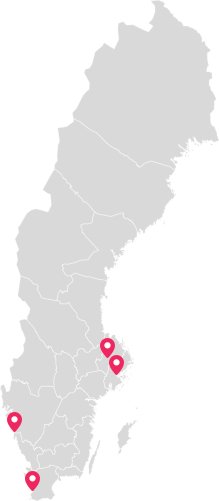 VASAKRONAN'S MANDATE
is to generate a high, risk-weighted return for our owners the First, Second, Third and Fourth Swedish National Pension Funds, though never at the expense of the environment and people. A return that will benefit Sweden's current and future pensioners.
WE TAKE RESPONSIBILITY
for the people who are affected by our business. We do so by applying fair work conditions and creating good work and urban environments. It goes without saying that we also say no to any form of discrimination.
WE CREATE VALUE
To accomplish our assignment, we must create value in the business. This is achieved through good property management and development, and supplemented by active transactions. Moreover, sustainability is in focus throughout our operations.
The property portfolio
Vasakronan's strategic direction is to concentrate our property holdings in markets with conditions for strong economic growth and good liquidity for transactions
The portfolio should consist of properties that, over time, are attractive in the rental market in terms of both product and location. The assessment is that office and retail properties in good locations in selected areas have the best conditions. As of 301 December 2019, 74% of the total contracted rent was office premises and 18% was retail premises. The remainder was residential and other premises.
More information about each property is available at Vasakronan's properties (Swedish only).
Our history
On 1 September 2008, Vasakronan and AP Fastigheter merged and created a new, jointly-operated company under the name Vasakronan. This was after 3 July 2008, when AP Fastigheter purchased all shares in Vasakronan from the Swedish state. The purchase price for Vasakronan reflected a property value of SEK 41.1 billion. The acquisition created a property company that is best in its class in Sweden, and one of the major companies in Europe.
AP Fastigheter AB 1998 – 2008
AP Fastigheter was created in 1998 for owning and managing Swedish properties that had previously been owned by the First through Third Swedish national pension funds. There were 274 properties valued at around SEK 20.5 billion. In May 2000, the First through Fifth Swedish National Pension Funds became the more independent First, Second, Third and Fifth Swedish national pension funds, with more relaxed investment rules about capital management. AP Fastigheter is owned in equal shares by the First, Second, Third and Fourth Swedish national pension funds.
The property portfolio is continuously changing through purchases and sales. Some of our major transactions were acquiring Diös in 2001 and Position Stockholm in 2005, and selling all of the portfolio in Umeå in 2003 and the portfolios in Gävle, Falun, Mora and Borlänge in 2005.
Vasakronan 1993 – 2008
Vasakronan was established in 1993, when properties worth a total of SEK 17.2 billion were purchased from the Swedish state. Prior to this, they had been managed by Byggnadsstyrelsen. In 1992, Parliament resolved to dissolve what was then Byggnadsstyrelsen and create four new entities: Vasakronan, Akademiska Hus, Statens Fastighetsverk and Statens Lokalförsörjningsverk.
The properties were all over Sweden, from Trelleborg to Karesuando, and in addition to offices contained customised premises for the Swedish University of Agricultural Sciences, Sami schools, and prisons.
The establishment of Vasakronan led to a comprehensive restructuring and the property portfolio was refined to comprise commercial properties, offices and retail premises. At the same time, the portfolio's focus shifted to metropolitan regions. From 1994 – 2007, Vasakronan bought properties for SEK 21.1 billion and sold them for SEK 22.4 billion.
And what about the company name?
Vasakronan – The crown of Vasa

On 6 June 1523, Gustav Vasa was crowned the king of Sweden. He reigned until his death in September 1560 and is generally seen as the founder of the modern nation state of Sweden.
During his time, Sweden was united into one country under one crown, and he converted Sweden from Catholicism to Protestantism. A strong central authority was introduced during his time as ruler, and he strengthened both the influence of the state and the economy. He also built up and collected the state's property holdings under a single management, which is how it remained until the beginning of the 1990s.
Then it was decided to privatise the majority of the state's properties and in 1993 Akademiska Hus was founded to manage university and higher education properties. The properties suitable for private ownership were transferred to another company named Vasakronan, The Crown of Vasa, in memory of the king who laid the groundwork for the state's property holdings.
In May 1997, Vasakronan divested its holdings of properties suited for operations with stringent security requirements (including courts, the Swedish Security Service and the Swedish Armed Forces) to a newly founded, publicly owned company – Specialfastigheter.
In 2008, the state sold Vasakronan to the Swedish national pension funds' property company AP Fastigheter, which chose to keep the name Vasakronan, The Crown of Vasa.